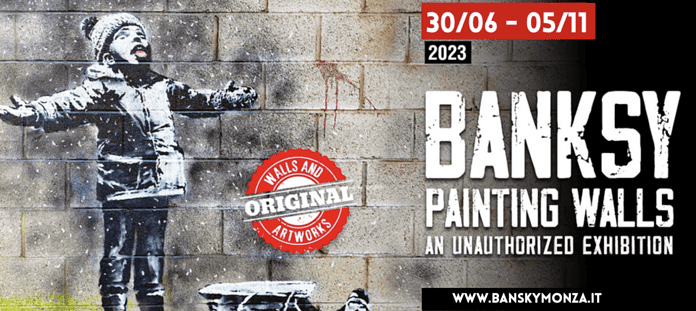 Banksy. Painting Walls 
Arrivano per la prima volta in Italia, alla Villa Reale di Monza, tre porzioni di muro originali di Banksy (del peso di sei tonnellate). Si tratta di pezzi provenienti da collezioni private, dipinti dall'artista nel 2009, nel 2010 e nel 2018, a Londra, nel Devon e nel Galles.
In questi trent'anni, Banksy è diventato una delle figure leggendarie della street art, ma chi (o quanti, si parla anche di un collettivo) si nasconda dietro questa firma rimane un mistero.
Accompagnati da opere originali dell'artista e da una ricca selezione di serigrafie, tra cui le iconiche Girl with Balloon e Love is in the Air, di fotografie dei murali e approfondimenti dedicati alla musica e a Dismaland, il suo parco di "non-divertimenti", i tre muri danno vita a un percorso che conduce lo spettatore attraverso l'immaginario del misterioso artista, dalle origini a oggi.
La mostra è visitabile fino al 5 novembre 2023.