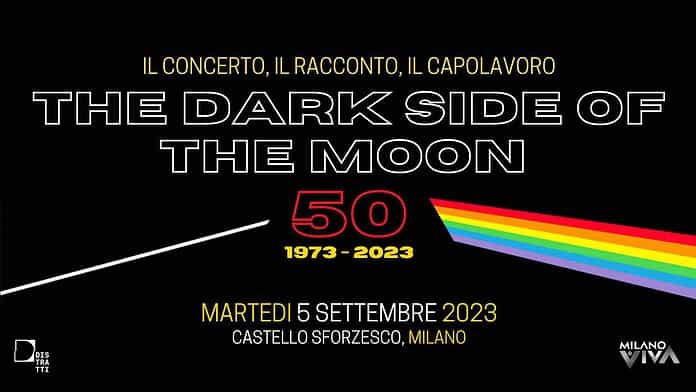 The dark side of the moon
In occasione dei cinquant'anni dell'uscita di "The dark side of the moon", l'album originariamente pubblicato dai Pink Floyd nel marzo del 1973, è stata annunciata una serata speciale nel Cortile delle Armi del Castello Sforzesco di Milano per il prossimo martedì 5 settembre 2023.
L'evento, ideato in collaborazione con Luca de Gennaro e prodotto da I Distratti Eventi & Servizi, rientra nel palinsesto della Estate al Castello 2023 del Comune di Milano.
Il concerto prevede l'esecuzione integrale dal vivo di tutto l'album, e non solo, ad arricchire lo spettacolo un affascinante racconto dell'astrofisico Fabio Peri, che ci guiderà in un viaggio attraverso "La Luna, Il Buio, L'Arcobaleno" e uno splendido racconto di Luca de Gennaro che ci condurrà indietro nel tempo, immergendoci nella Londra psichedelica in cui sono nati i Pink Floyd.