ROOFTOP MILAN: TOP TEN
Rooftop Bars in Milano: The 10 best rooftop in Milan.
It's still the season for outdoor drinking at rooftop bars and as we all know everything looks better from above. In Milan we have plenty of options for you to bring your friends and enjoy panoramic views and the hot Milanese nightlife. We have selected the 10 best rooftop bars and terraces in Milan starting with
LaGare Hotel Milano
On the 13th floor of Hotel LaGare you can enjoy the view of the iconic Pirelli building in the east and the new and modern Unicredit Building in the west. While the DJ play the night away you can hang out in their international lounge sipping on a drink and enjoy the atmosphere in one the best bars in Milan.
Open: May-October 19:00-24:00
Adress: Via Giovanni Battista Pirelli, 20, 20154 Milano
---
2.Radio Rooftop Bar Milan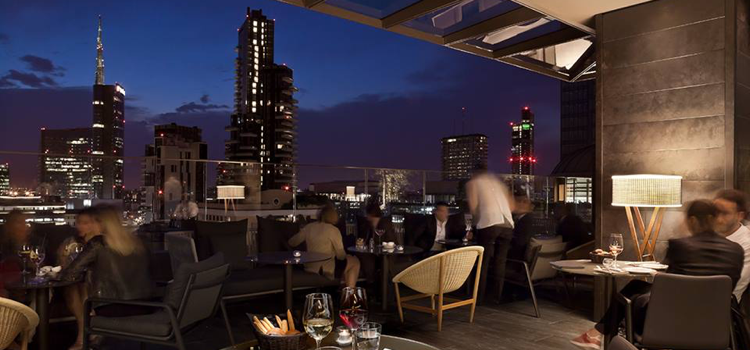 At Radio Rooftop Bar you can relax all day as they serve both lunch, brunch and off course a wonderful selection of international tapas in the evening. All while you admire the skylines of Milan!
Open 19:00-01:00
Lunch 12:00-15:00
Brunch Sundays from 12:00-16:00
Adress: Via Marco Polo 18, 201 24 Milano
---
Terrazza Gallia Rooftop Bar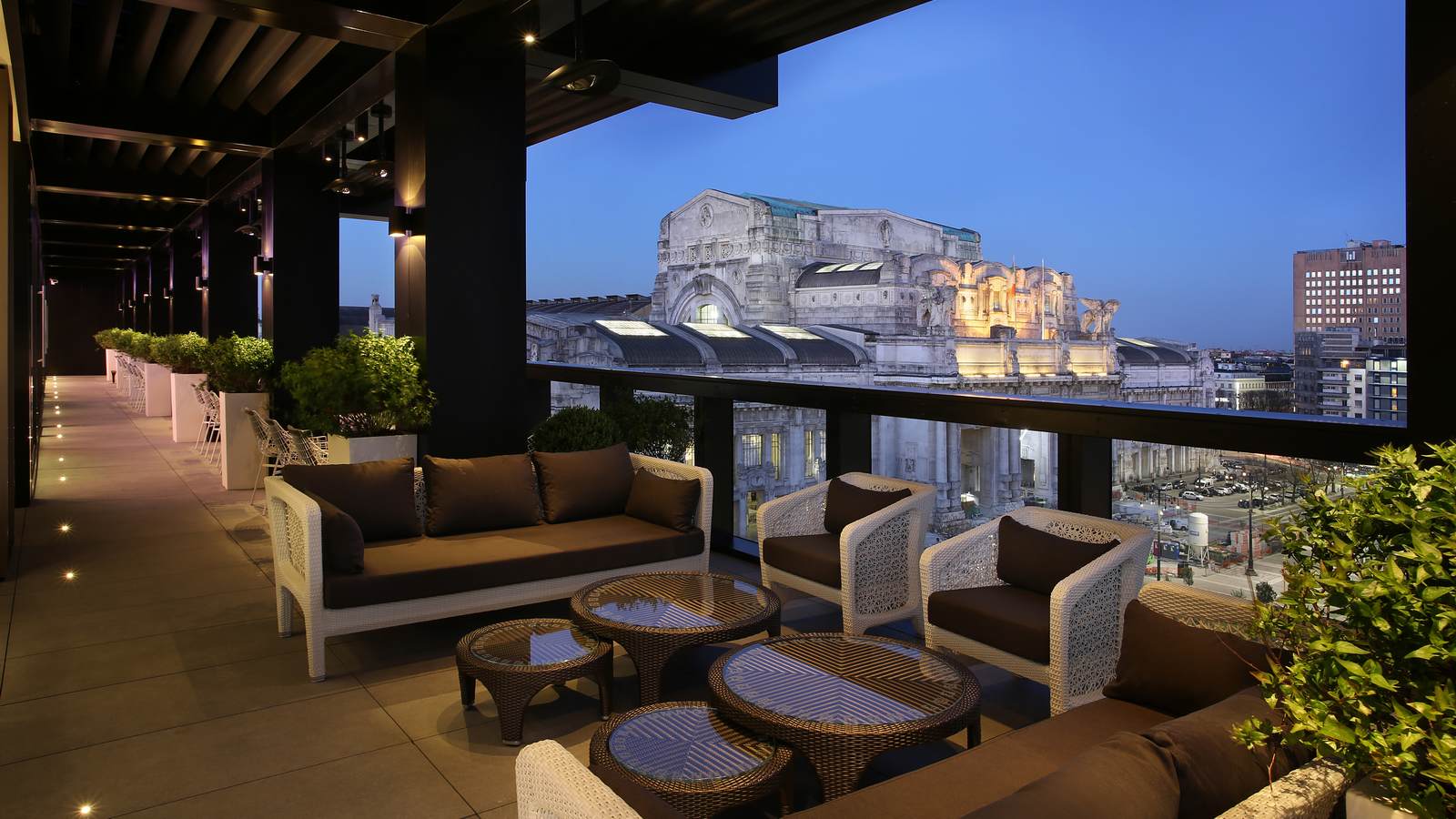 Another great hotel bar close to the central station that invites you to a wonderful view is Terrazza Gallia at Excelsior Hotel Gallia. They offer all day dining and high quality cocktails and the hotel restaurant gives you the opportunity to taste the best of what Lombardy has to offer, a real culinary experience.
Open:
Bar 12:00-01:00
Restaurant: 19:00-22:30
Adress: Piazza Duca d'Aosta, 9, 201 24 Milano
---
Terrazza12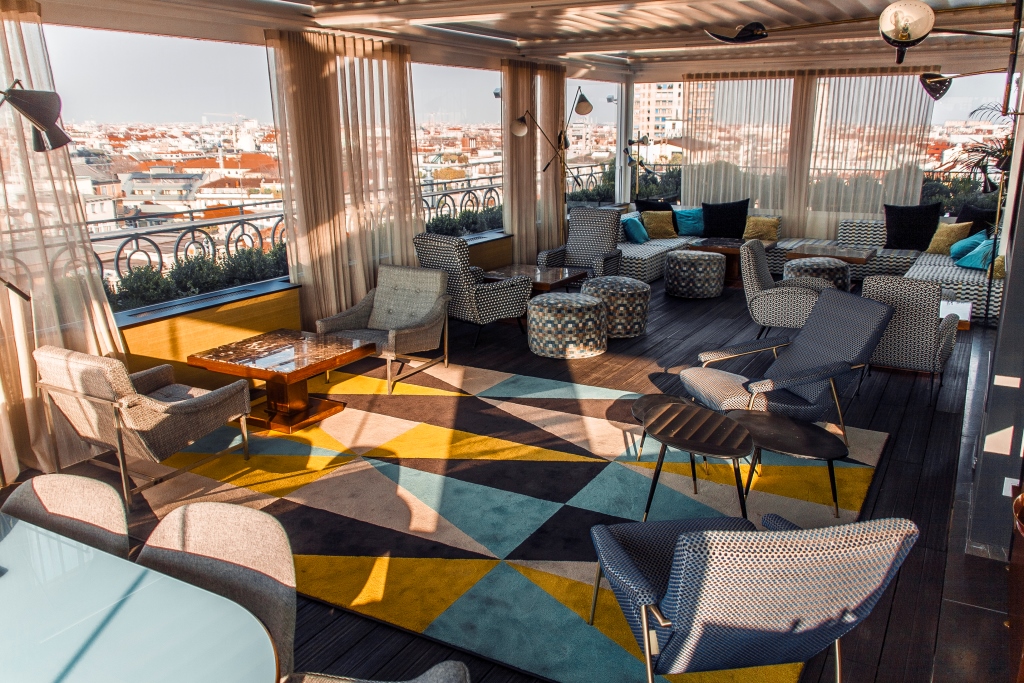 On top of the trendy galleria Brian&Berry at San Babila you find an elegant and cool rooftop bar where you can see the sun set over the Duomo.  Taste one of their signature drinks or a classic while you rest your feet in the lounge area inside or on the panorama balcony.
Open 12:00-01:00
Adress Via Durini, 28, 20122 Milano
---
Boscolo Milano, Autograph Collection
In the city center of Milan we find Boscolo Hotel Milan, a modern luxury hotel that offers lunch, brilliant apertivo and drinks at their terrace with Duomo view.
Open 24/7
Adress Corso Matteotti, 4/6, 20121 Milano
---
Ceresio 7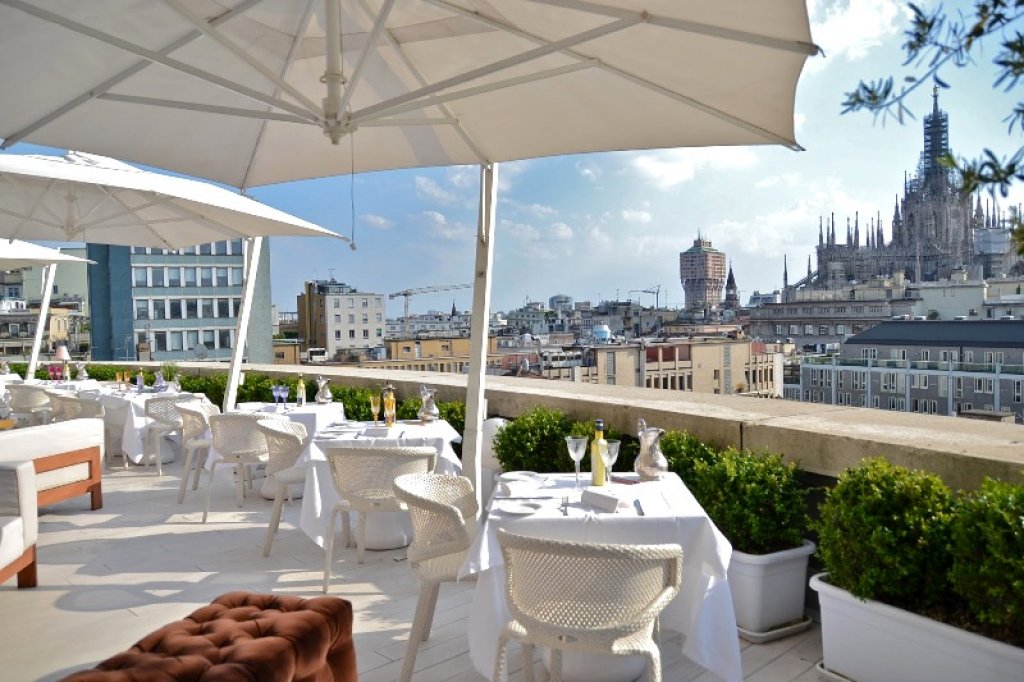 Need to cool off the hot Milanese sun? Come to Ceresio7 that not only offers cool bars and restaurant but also two pools where you can take a dip surrounded by the skyscrapers while you experience beautiful Milan from above.
Open:
Bar 12.30-01:00
Restaurant: 12:30-15:00 and 19:30-23:00
Pool 10:00-17:00
Adress: Via Ceresio , 7, 201 54 Milano
---
Terrazza Aperol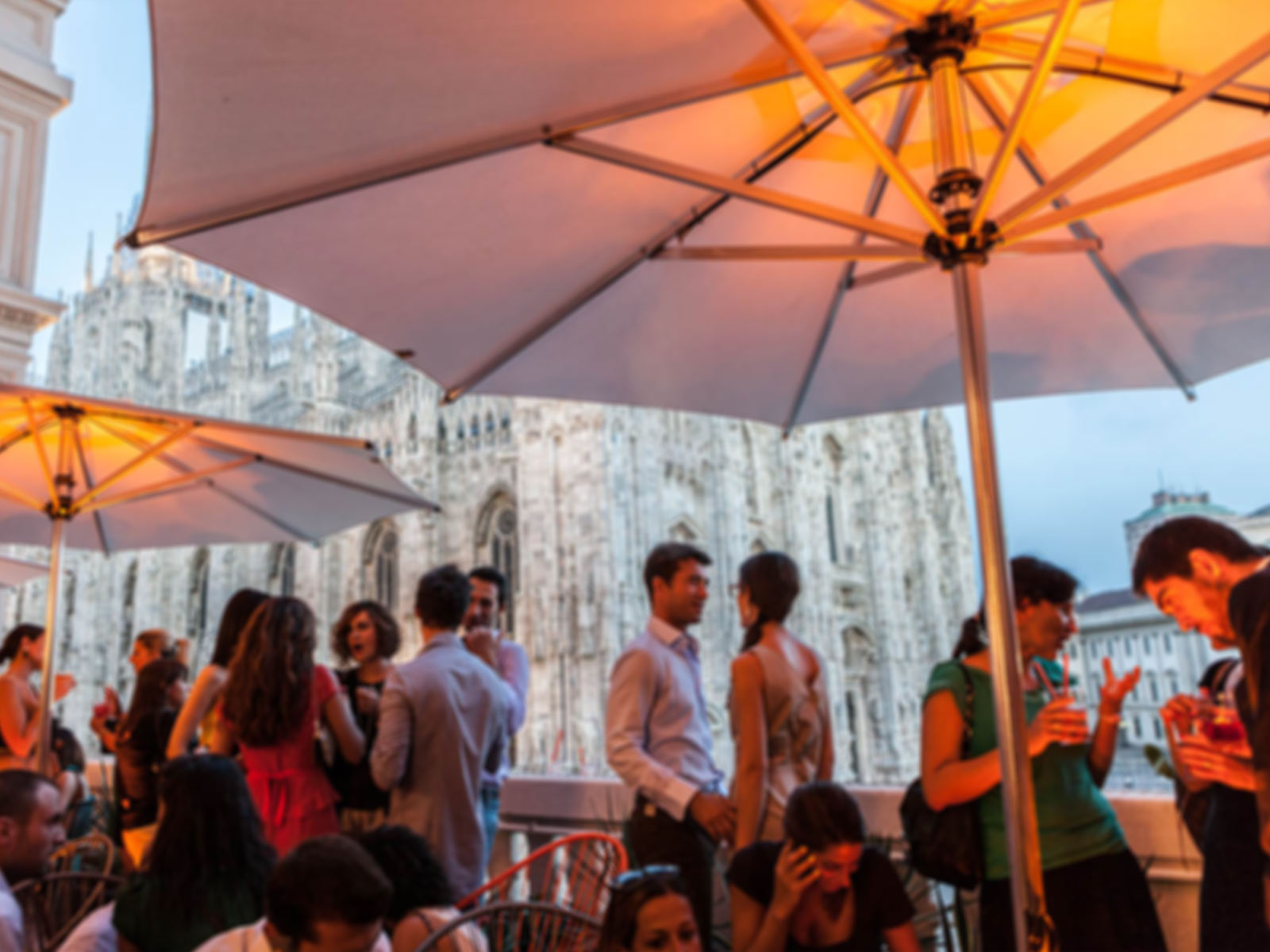 When in Milan you cannot miss going to Terrazza Aperol, with the view of Piazza Il Duomo and the magnificant Duomo itself this is a great stop while you explore the city center. Enjoy a refreshing Aperol Spritz and realx in their comfortable lounge chairs at the terrace.
Open:  11:00-23:00
Adress: Piazza del Duomo, 20121 Milano
---
8. La Rinascente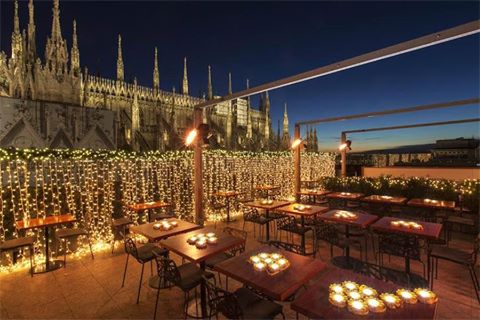 Do you need a paus from your shopping? La Rinascente offers spectacular view at their rooftop terrace. Here you can have a quick coffee in the bar or have a tasty lunch out on terrace.
Open: 08:30-00:00
Adress: Piazza del Duomo, 20121 Milano
---
Terrazza Triennale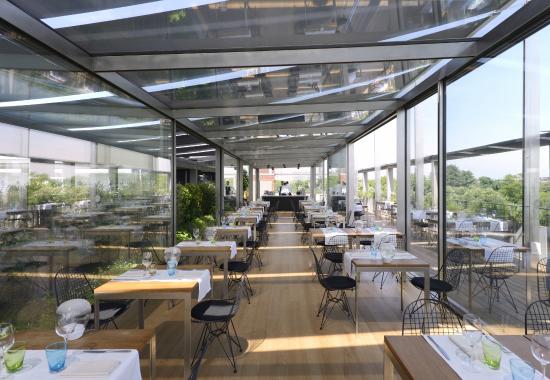 In the middle of Parco Sempione this design museum offers a wonderful green panorama view from their terrace, Osteria con Vista.  Enjoy a very elegant atmosphere and delicious lunch, dinner or apertivo before or after you explore the museum, La Triennale.
Open: 12:00-01:00
Adress: Viale Alemagna Emilio, 6, 20121 Milano
---
Corso Como 10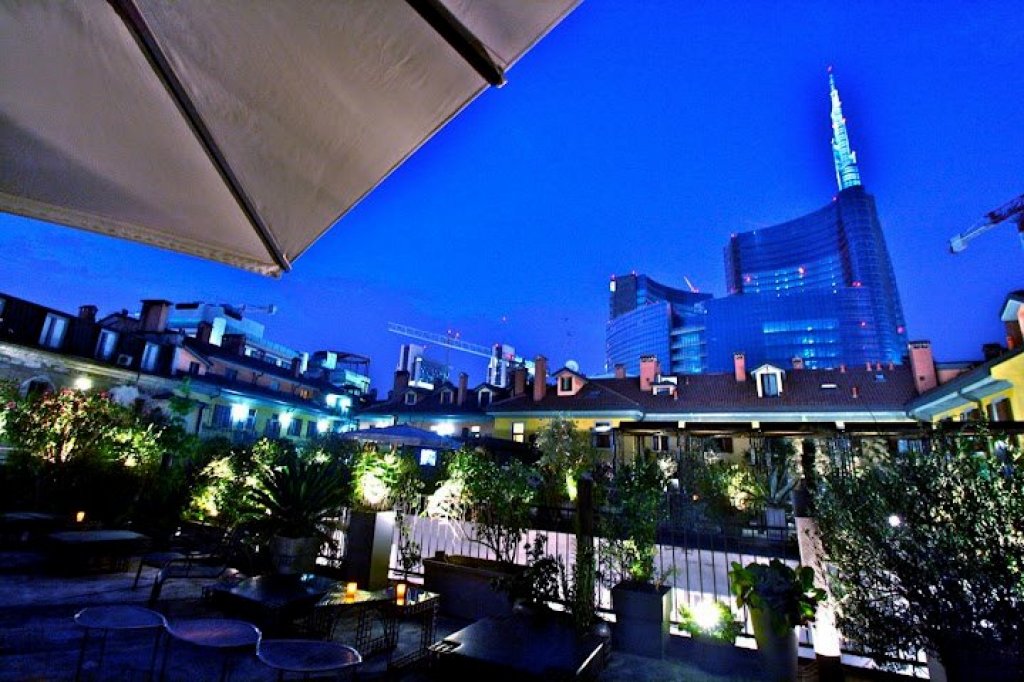 A green oas on top of Corso Como 10. Galleria Corso Como 10 is owned by Carla Sozzani ealier editor of Vougue Italia. The Galleria offers a garden café, cool shops and a great art gallery but don't miss stepping up to their beautiful rooftop garden. A calm oasis in the middle of the city buzz.
Open: 10:30-19:30
Adress: Corso Como, 10, 20124 Milano
Autor: Marie Ekström